VINCENT MONTALBINE
February 5, 2014. Vincenzio (Vincent) was born 15 Apr 1886 to Nazarene Montalbino and Francesco Russo. Died 14 Dec 1944 in Brooklyn.
Luigi and 12 year old Vincenzo departed Naples on 12 Aug 1899 on the SS Hesperia. They arrived in NYC on 2 Sep 1899. They had $14.00.
Vincenzo departed Naples on 28 Oct 1904 on the SS Prinzess Irene. Arrived in NYC on 13 Nov 1904. He had $4.00. He went to live with Luigi at 15 John St, West Orange, NJ.
Vincenzo departed Naples on 21 Apr 1911 on the SS Berlin, built in 1909, and arrived in NYC on 3 May 1911. He had a scar on his forehead. He went to live with Luigi at 22 East 2nd St, Brooklyn.
The 1900 census shows Vincent living at 283 Valley Rd, West Orange, NJ. He was a border at the home of John (Giovanni?) Patierno probably from Savignano. Living with John were his wife, daughter and his father. John and father were Barbers. Vincent was listed as a Barber's apprentice.
Married Pauline Zrogowski 21 Dec 1913 in I.H.M. Brooklyn. She died 18 jul 1953.
Children:
Vincent Paul b. 4 Jul 1914 in Brooklyn. Married Emma Holcomb 10 Jan 1948 at I.H.M. Brooklyn She was b. 2 Feb 1922 d. 13 Mar 2011.
Louise b. 24 Feb 1916. d. 29 Mar 1958.
Robert John b. 28 June 1921. d. 31 Jan 1963.
March 4, 2015. Brooklyn Eagle December 16, 1944.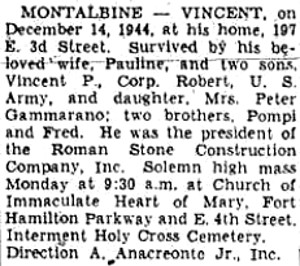 March 4, 2015.Historic Saranac Lake
Adirondack Daily Enterprise, June 19, 1998
SARANAC LAKE - Vincent P. Montalbine, 83, of Saranac Lake, died Thursday, June 18, 1998 at the Adirondack Medical Center in Saranac Lake. Born July 4, 1914 in Brooklyn, he was the son of Vincent P. and Pauline (Zrogowski) Montalbine. He married the former Emma B. Holcomb on Jan. 10, 1948. He attended Brooklyn schools and graduated from Colby Academy and St. John's University in New York City. Later he worked in the import-export business with Dodge & Seymour on Wall Street in New York City. Montalbine became ill in 1942 and moved to Saranac Lake to cure from tuberculosis. He was then employed by the Trudeau Institute in medical research for 35 years, retiring in 1976. He continued to work part time there until 1986. He had been an active member of the Knights of Columbus at one time and also enjoyed reading, music, gardening and travel. Survivors include: his wife; two sons, Dr. Paul V. Montalbine of Syracuse and Christopher J. Montalbine of N. Royalton, Ohio; two daughters, Ann M. Montalbine and Barbara Montalbine both of Saranac Lake; and two grandchildren. He was predeceased by a brother Robert and a sister, Louise Gammarano.
Emma Holcomb Montalbine
Born: February 2, 1922
Died: March 13, 2011
Graduated as a registered nurse from the New York University Bellevue Medical Center in NYC in June 1947. She married Vincent P. Montalbine on January 10, 1948 in Brooklyn. After their marriage they settled in Saranac Lake, where they had met while being treated for tuberculosis at the Trudeau Sanatorium. During her career she worked at Ray Brook Hospital, Will Rogers Hospital, Medical Associates and Adirondack Medical Center until her retirement in 1997.