MONTALBINO
January 19, 2011. Photographs - MONTALBINO village.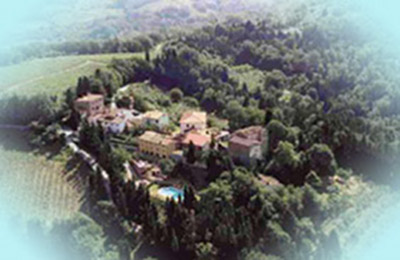 Montalbino is about 14 miles SSE of Florence and about 3 miles South of Montespetui in the rolling hills of Tuscany. We stayed in the Borgo di Salvino. when we visited in May 2004. The Church is on the far right and the castle on the far left.
This is a poor translation of the Montalbino history outlined on their site,
It seems that the origin of the Montalbino name derives from a roman family Albinia, that resided here. There is also a popular and romantic tradition that traces the country's name from the star Monte dawn. In fact, for those arriving by Montalbino Tresanti moving from an old medieval road now partially feasible, you can see the village nestling on top of a hill at the top where the church above it shines the morning star Venus as a bright note that the star of Dawn. (Or this version). There is also a popular and romantic tradition that go to go back the name of the country from Mount of the star dell' dawn. In effects, for who it arrives to Montalbino from Tresanti passing from un' ancient today partially practicable medioevale road, can be seen the village defended on the top of a hill with to the apex the church where over of it the tipsy morning the Venere planet as the said most luminous star exactly.
In any case we can make to go back the foundation of Montalbino around all' year thousands, cioé after l' demographic increase that happened in the campaigns to the passage of the millenium. The testiminiano the ancient stones that find survivors on the facade of the small church of S.Giusto This church was born like ' filiale' dell' ancient church of S.Pietro at the market that neighbor to Montespertoli finds itself.
Leaving to be the legends and returning Montalbino, we can say that the pic- it strains church of S.Giusto must have enjoyed in the Middle Ages of a sure importance for the fact that costudiva to its inside works d' art pregevolissime like a trittico optimally conserved dated 1400 of Signals of Francisco, a Madonna with the Child of Andrea di Giusto and other works, today all conserved in the museum near pieve of S. Peter at the market.
A legend narrates that it was the same apostle to place the first stone of the pieve near Montespertoli. In fact coming S.Pietro from Palestine disembarked in Italy with l' attempt to catch up Rome. The disembarkation, after a storm that it made to far away divert the ship from the coasts of the Lazio, was near Pisa where today Peter to Degree rises the church of S. Along the road that carried to Rome S. Peter stopped every evening to make a rest stage and in those places it placed of stones to altar form in order to pray the Gentleman. In these places of he pauses very soon rose the first churches of the Tuscany all dedicated to S. Peter. Still today, in memory of quell' ancient event, the municipality of Montespetroli door like own standards the keys dell' Apostle Peter
The such presence of works in a small chiesetta of campaign is only justified if on the place lived committenti enough rich. And they resided sure in the castle that it rose of forehead to the church, (or quite the church was found all' inside of the castle). We know through a document of 1348 that in the castle resided a notary public what whom it made to increase of Montalbino.Oggi importance not are traces dell' ancient castle and the church conserve, besides ancient stones on the facade, a dated of campania of bronze 1302. L' building dell' farm holidays the Village of Saves had, or to make part of the complex dell' ancient castle, or at least to find itself to ridosso of it. II flat land, where now they find the Reception and l' apartment ' They save 1' , it is constituted from walls thick and, before the restoration, irregular, probably of medioevale origin. The advanced plans, instead, are more recent, sure dell' 800. In fact, during the restoration, it has been found again under a layer of I intonaco a currency with l' effige of the first king d' Italy Vittorio Emanuele them. According to an old tradition a time was used to place a currency between the fire-bricks or nell' I intonaco during the construction of a building like good augury. We know that Vittorio Emanuele II reigned between 1861 and 1878, period in which a lot probably the advanced plans were constructed dell' building